用青饲料喂养长毛兔,有利于长毛兔的生长和繁殖
  It is beneficial for the growth and reproduction of Angora rabbits to feed them with green forage
  长毛兔是一种食草动物,饲料来源很广,各种草、叶、菜和农作物的茎叶都是很好的青饲料。青饲料含有叶绿素、蛋白质、碳水化合物和多种维生素和矿物质,特别是豆类,如豌豆苗、大豆叶片、新鲜豆荚、新鲜豆茎和花生藤蔓。甘薯藤叶也是饲养长毛兔的良好饲料;还有玉米、豆类、小麦及其加工副产品,如麦麸、米糠、大豆饼、大豆粕等都是精制饲料。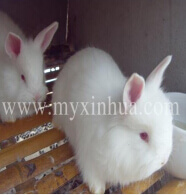 Angora rabbit is a kind of herbivore, which has a wide range of feed sources. All kinds of grass, leaves, vegetables and the stems and leaves of crops are good forages. Green fodder contains chlorophyll, protein, carbohydrate and many vitamins and minerals, especially beans, such as pea seedlings, soybean leaves, fresh pods, fresh stems and Peanut Vines. Sweet potato rattan leaf is also a good feed for raising Angora rabbits; there are corn, beans, wheat and their processing by-products, such as wheat bran, rice bran, soybean cake, soybean meal, etc. are all refined feeds.
  精制饲料蛋白质、脂肪、淀粉和磷、硫含量较多,但缺乏维生素,故应与青饲料混用喂养。在青绿饲料中加入适量的动物饲料,如鱼粉、骨粉等,对长毛兔的生长发育、繁育和提高兔毛产量、质量都有很大的好处;在幼兔饲料中添加少量鱼粉可以增强幼兔的抗病能力。此外,还应注意喂兔子适量的盐,一般每5斤兔子,每天可喂1克盐。
  There are more protein, fat, starch, phosphorus and sulfur in the refined feed, but it is lack of vitamin, so it should be mixed with the green feed. Adding some animal feed, such as fish meal and bone meal, to the green feed is very good for the growth and development of the long haired rabbit, breeding and improving the output and quality of the rabbit hair. Adding a little fish meal to the young rabbit feed can enhance the disease resistance of the young rabbit. In addition, we should also pay attention to the proper amount of salt for rabbits. Generally, every 5 jin of rabbits can be fed 1 g of salt every day.
  越新鲜的青饲料,营养价值越高,所以我们应该利用新鲜进料:不新鲜,甚至腐烂的饲料,如发霉蔬菜、瓜,发芽土豆和红薯与黑点病,不能喂兔子,否则会引起中毒死亡。青饲料收集后应摊开晾干,不应堆放在一起,防止发黄和营养物质被破坏。有沉淀物的应在喂食前清洗并烘干。同时,要注意防止青饲料农药污染,喷洒农药后不久的蔬菜、野地草等不能用来喂兔子。冬季饲喂干草,应在夏季割下,并与割下的干一起贮存,以免变质发霉。喂兔子干草的时候。干草应在温水中浸泡10分钟,然后晾干并喂食,以避免便秘。
  The fresher the green feed, the higher the nutritional value, so we should use the fresh feed: not fresh, even rotten feed, such as moldy vegetables, melons, germinated potatoes, sweet potatoes and black spot disease, can not feed rabbits, otherwise it will cause poisoning and death. The green feed shall be spread out and dried after collection, and shall not be stacked together to prevent yellowing and damage of nutrients. Sediment should be washed and dried before feeding. At the same time, we should pay attention to prevent the pollution of green feed pesticides. Vegetables and weeds that are not used to feed rabbits soon after spraying pesticides should not be used. When feeding hay in winter, it should be cut in summer and stored together with the cut hay to avoid deterioration and mildew. When feeding the rabbit hay. The hay should be soaked in warm water for 10 minutes, then dried and fed to avoid constipation.
  也可用除大豆以外的植物,如紫花苜蓿、紫云等晒干,磨成草粉,以代替麸皮使用。干燥的草粉必须存放在密封的容器中,以保持其香味,避免潮湿和发霉。根型肉质饲料应洗凉后晾干,刨成细丝或切成粒,拌入糠中饲喂;全麦要稍微捣碎,大麦、小麦、玉米等也可以压成薄片。豆饼也是一种很好的饲料,可以切成细条或浸渍后食用。用豆渣喂长毛兔,应将豆渣榨干,拌以麸皮、米糠后再喂。
  It can also be used to dry plants other than soybeans, such as alfalfa and purple cloud, and grind them into grass powder to replace bran. Dried grass powder must be stored in a sealed container to keep its fragrance and avoid humidity and mildew. The root type meat feed should be washed and dried, planed into fine silk or cut into grains, mixed into bran for feeding; the whole wheat should be slightly mashed, barley, wheat, corn, etc. can also be pressed into thin slices. Bean cake is also a good feed, which can be cut into thin strips or soaked for eating. To feed Angora rabbits with soybean dregs, the dregs should be dried, mixed with bran and rice bran, and then fed.
  以上是
长毛兔
小编为大家介绍的相关内容,想要了解更多内容,欢迎访问网站:http://www.myxinhua.com
  The above is the introduction of the long haired rabbit. If you want to know more, please visit the website: