长毛兔养殖现状主要体现在哪些方面?
What are the main aspects of the current situation of breeding long haired rabbits?
1.毛兔品种培育。(1)毛兔市场需求。目前兔毛产品,纺高支纱、做轻薄产品是个方向。一方面符合服装向轻薄化发展的潮流,另外也易于解决原兔毛产品存在的掉毛、起球、缩水三大难题,因此对细度的要求较高。
1. Breeding of rabbit breeds. (1) Market demand for rabbits. At present, spinning high count yarn and making light and thin products are the direction for rabbit hair products. On the one hand, it is in line with the trend of clothing towards lightweight development, and on the other hand, it is easy to solve the three major problems of hair loss, pilling, and shrinkage in original rabbit hair products. Therefore, the requirement for fineness is high.
(2)培育适合市场的兔毛品种。通过调研发现,目前养殖的长毛兔,细毛细度偏粗,多为16~17微米,因此,对毛兔的培育不能将只放在提高产量上,而应根据产品的需要综合考虑。对毛长的要求比细度要低些,毛长3~4厘米的兔毛,即可满足纺纱的要求,而毛长2厘米左右的兔毛可以用来与棉进行混纺。
(2) Cultivate rabbit hair varieties suitable for the market. Through research, it has been found that the fine hair of the currently cultivated long haired rabbits is relatively coarse, mostly ranging from 16 to 17 microns. Therefore, the focus of rabbit breeding should not be solely on improving production, but should be comprehensively considered according to the needs of the product. The requirement for hair length is lower than fineness. Rabbit hair with a hair length of 3-4 centimeters can meet the spinning requirements, while rabbit hair with a hair length of about 2 centimeters can be used for blending with cotton.
2.养毛期的确定。长毛兔的养毛期要根据毛纺市场的需求灵活掌握。果勇养殖场对不同养毛期兔毛生长速度和纤维细度进行了测定,结果表明,兔毛前期生长速度(1~20天)超过1毫米/天,以后的生长速度逐渐减慢。50天养毛期,兔毛长度可达到35毫米,60天接近40毫米,70天背部兔毛可达到50毫米。实际生产中可根据各地不同的气候特点及市场需求,适当调整养毛期,晚春至早夏季节,采用50~70天的养毛期,兔毛可达到纺织要求。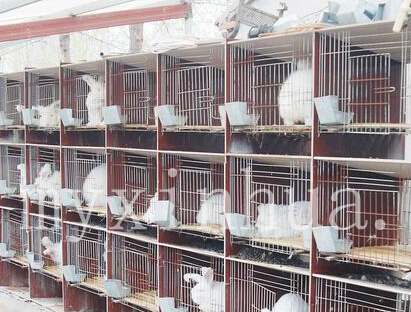 2. Determination of hair raising period. The wool raising period of long haired rabbits should be flexibly controlled according to the needs of the wool textile market. Guoyong Farm measured the growth rate and fiber fineness of rabbit hair during different hair raising periods, and the results showed that the growth rate of rabbit hair in the early stage (1-20 days) exceeded 1 mm/day, but gradually slowed down in the future. During the 50 day hair raising period, the length of rabbit hair can reach 35 millimeters, approaching 40 millimeters in 60 days, and 50 millimeters in back hair in 70 days. In actual production, the wool raising period can be adjusted appropriately according to the different climate characteristics and market demands in different regions. From late spring to early summer, a wool raising period of 50-70 days can be used, and rabbit hair can meet the textile requirements.
3.饲料现状。目前在生产过程中使用的大宗饲料原料主要为玉米、饼粕类、农作物秸秆和部分工业副产品等,随着工业用玉米用量的增加和畜牧业发展对饲料原料需求的增加,养殖业面临饲料价格上涨、饲料来源紧张和饲料质量难以控制的问题,特别是粗饲料,很难满足长毛兔生产的需要,因此,必须开发非常规饲料。
3. Current situation of feed. At present, the main bulk feed raw materials used in the production process are corn, cake, crop straw, and some industrial by-products. With the increase in the amount of industrial corn and the increasing demand for feed raw materials in the development of animal husbandry, the breeding industry is facing problems such as rising feed prices, tight feed sources, and difficult to control feed quality, especially rough feed, which is difficult to meet the needs of rabbit production. Therefore, It is necessary to develop unconventional feed.
(1)食用菌菌渣。菌渣为食用菌产菇后的废料,食用菌栽培原料经微生物发酵后,部分物质被降解,可适当添加用作畜禽饲料。在兔饲料中添加10%~15%,可在不影响生产性能的情况下减少饲料成本。比如金针菇菌渣与小麦麸皮相比,粗蛋白略低,粗纤维含量接近,但菌渣为有益菌发酵产品,含有更多的菌体蛋白和非蛋白氮,更适宜兔的消化和利用,可完全替代小麦麸皮。但由于新鲜菌渣含水量高达40%以上,生产中必须在良好天气情况下将新鲜菌渣快速晒干或烘干,以减少霉变,限制了新鲜菌渣的开发利用,可添加菌渣时适当添加脱霉剂。
(1) Edible mushroom residue. Mushroom residue is the waste produced by edible mushrooms. After microbial fermentation, some substances in the cultivation materials of edible mushrooms are degraded and can be appropriately added for livestock and poultry feed. Adding 10% to 15% to rabbit feed can reduce feed costs without affecting production performance. For example, compared to wheat bran, mushroom residue has slightly lower crude protein and similar crude fiber content. However, mushroom residue is a beneficial fermented product that contains more bacterial protein and non protein nitrogen, making it more suitable for digestion and utilization by rabbits and can completely replace wheat bran. However, due to the high moisture content of fresh bacterial residue of over 40%, it is necessary to quickly dry or dry the fresh bacterial residue in good weather conditions during production to reduce mold formation, which limits the development and utilization of fresh bacterial residue. When adding bacterial residue, appropriate mold removal agents can be added.
(2)苹果粕。苹果粕是采用优质、新鲜苹果,经挑选、清洗、压榨、烘干、粉碎精制而成的一种纯天然、绿色饲料。小兔饲料可添加5%~8%,大兔饲料可添加10%~20%。
(2) Apple meal. Apple meal is a pure natural and green feed made from high-quality and fresh apples, selected, cleaned, pressed, dried, and crushed. Small rabbit feed can be added with 5% to 8%, while large rabbit feed can be added with 10% to 20%.
(3)松针粉。松针粉是由马尾松等树种的针叶经过一系列工艺加工而成的,在毛兔饲料中添加5%,可明显增加毛密度,提高产毛量10%左右。
(3) Pine needle powder. Pine needle powder is made from the needles of tree species such as Pinus massoniana through a series of processing techniques. Adding 5% to rabbit feed can significantly increase wool density and increase wool yield by about 10%.
The above is the content introduced by the manufacturer of Changmao Rabbit for everyone. Thank you for taking the time to check our company's information content http://www.myxinhua.com If you want to learn more, welcome to call for consultation!