1、良种选择
1. Selection of superior varieties
安哥拉兔品种以安哥拉兔的生产性能好。安哥拉兔有中系、英系、日系、德系等,其中以德系兔体型较大,成年体重达5千克左右,年产毛量1.0~1.2千克,优良者可达到1.5千克。中系安哥拉兔适应性强,繁殖率高,耐粗饲,抗病力强,与德系安哥拉兔杂交后具有良好的配合力。
The Angora rabbit variety has good production performance. Angora rabbits can be classified into Chinese, English, Japanese, German, etc. Among them, German rabbits have a larger body size, an adult weight of about 5 kilograms, and an annual wool production of 1.0-1.2 kilograms. Excellent rabbits can reach 1.5 kilograms. The Chinese Angora rabbit has strong adaptability, high reproduction rate, tolerance to rough feeding, strong disease resistance, and good compatibility with German Angora rabbits after hybridization.
2、笼舍建筑
2. Cage building
安哥拉兔一般采用笼养,种兔单笼分养,幼兔一笼多养。常用的兔笼一般长60厘米、宽55厘米、高45厘米;3层,兔笼底部离地30厘米以上。笼底板好铺设竹片,竹片宽2.5厘米,两片之间的距离为1厘米。这样,既能使兔粪落下,又不夹兔脚。
Angora rabbits are generally kept in captivity, with single cages for breeding rabbits and multiple cages for young rabbits. Commonly used rabbit cages are generally 60 centimeters long, 55 centimeters wide, and 45 centimeters high; 3 layers, with the bottom of the rabbit cage at least 30 centimeters above the ground. The bottom plate of the cage should be laid with bamboo sheets, with a width of 2.5 centimeters and a distance of 1 centimeter between the two sheets. In this way, it can not only make rabbit manure fall, but also not pinch the rabbit's feet.
3、饲养管理
3. Breeding management
安哥拉兔以草食为主,适当搭配精料。产毛兔每日约需青饲料0.5千克、配合饲料100~150克。常用的青饲料有苜蓿、菜叶、树叶、花生藤、红薯秧及各种野草,冬季可饲喂晒制青干草。配合饲料参考配方:豆粉15%,麸皮28%,大麦15%,玉米(2354,0.00,0.00%)10%,米糠20%,鱼粉5%,棉籽饼5%,贝壳粉1.5%,食盐0.5%。每日饲喂3~4次,要定时定量,尤其夜间要保证有充足的草料和饮水。青饲料要洗净沥水,不喂带泥土、雨水或喷洒过农药的。精料要现拌现喂,防止隔夜发酸。仔兔16日龄可开始补料,40~45日龄断奶。4月龄后公母兔应分笼饲养。
Angora rabbits mainly feed on grass and are appropriately paired with refined ingredients. Producing rabbits require approximately 0.5 kilograms of green feed and 100-150 grams of formula feed per day. Commonly used green feed includes alfalfa, vegetable leaves, leaves, peanut vines, sweet potato seedlings, and various wild grasses. In winter, it can be fed with sun dried green hay. Reference formula for formula feed: 15% soybean powder, 28% bran, 15% barley, 10% corn (2354,0.00,0.00%), 20% rice bran, 5% fish meal, 5% cottonseed cake, 1.5% shell powder, and 0.5% salt. Feed 3-4 times a day, regularly and quantitatively, especially at night to ensure sufficient forage and drinking water. Green feed should be washed and drained, and should not be fed with soil, rainwater, or pesticides that have been sprayed. Concentrated ingredients should be mixed and fed immediately to prevent overnight souring. Rabbits can start feeding at the age of 16 days and wean at the age of 40-45 days. Male and female rabbits should be raised in separate cages after 4 months of age.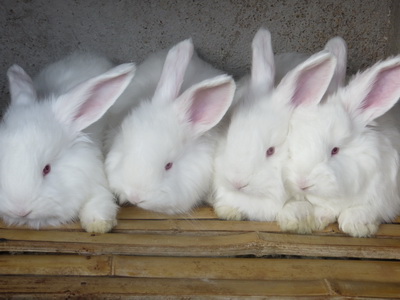 4、繁殖技术
4. Reproductive techniques
母兔6~7月龄,体重2.5~3.5千克;公兔9月龄,体重3.5~4.0千克时就可配种繁殖。本交公母兔比例为1∶8~10。安哥拉兔初配时常拒绝配种,可强制交配,用左手抓兔,右手从左胯部伸入,用两手指将阴门分开,让兔爬跨交配。8小时后,再用同样方法重新交配一次。母兔的怀孕期30~31天,怀孕25天后,母兔开始拔毛絮窝,这时应把产仔箱放入窝内。一般每胎产仔5~6只,多则8~10只,每只母兔以哺乳6~7只为宜。
The mother rabbit is 6-7 months old and weighs 2.5-3.5 kilograms; Male rabbits can breed and reproduce at the age of 9 months and weighing 3.5-4.0 kilograms. The ratio of male to female rabbits in this study is 1:8-10. Angora rabbits often refuse to mate during initial mating and can be forced to mate. Grab the rabbit with your left hand, insert your right hand from your left crotch, and use two fingers to separate the clitoris, allowing the rabbit to crawl across and mate. After 8 hours, remarry again using the same method. The pregnancy period of the mother rabbit is 30-31 days. After 25 days of pregnancy, the mother rabbit begins to pluck the wool from the nest. At this time, the litter box should be placed in the nest. Generally, 5-6 litters are produced per litter, with a maximum of 8-10 litters. It is advisable to breastfeed 6-7 litters per female rabbit.
5、采毛
5. Picking wool
安哥拉兔
出生3个月后即可采毛。采毛方法有拔毛和剪毛两种。青年兔一般剪毛,成年兔可采用拔毛。拔毛可1月拔1次,拔长留短,拔时宜一小撮一小撮轻拔。剪毛一般间隔70~90天剪1次,剪毛应先剪背部,后剪腹部。做到分级剪毛或拔毛,分级包装,分级存放,以错开销售等级,提高养兔效益。
Angora rabbits can collect hair after 3 months of birth. There are two methods of picking wool: plucking and shearing. Young rabbits are generally sheared, while adult rabbits can use plucking. Pulling can be done once a month, leaving the length to be left short. It is advisable to pull out small groups of hair gently. Shearing is usually done once every 70-90 days, starting with the back and then the abdomen. Achieve graded shearing or plucking, graded packaging, and graded storage to stagger sales levels and improve rabbit breeding efficiency.
The scientific breeding technology of Angora rabbits can be understood from the above five points. We hope it can help you. For more information, please visit our website http://www.myxinhua.com consulting service